Customer Reviews
02/02/2021
I recommend this product
Beautiful engagement proposal
Bang Bang Balloons provided good quality balloons and excellent service for my engagement proposal day. They spoke to the accommodation to have everything organised for when we checked in. Highly recommended.
Giacomo p.

Australia
04/01/2021
I recommend this product
Agustin Machado - Elements Byron Bay Proposal
Overall experience absolutely brilliant! Quick and easy to work with, very productive and provided great options. Along with an amazing set up for my proposal. Highly recommended! Much appreciated.
Agustin M.

Australia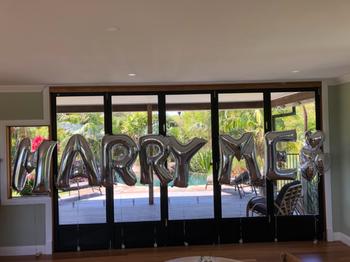 09/11/2020
I recommend this product
Marry Me inflated balloons
Lily made the proposal happen. It was all so professional and easy. The set up looked amazing. Lily was so easy to communicate with and everything was seamless. Definitely going to recommend Bang Bang Balloons to friends.
Naomi S.

Australia