Customer Reviews
31/03/2021
I recommend this product
Great service
Great service, good quality. Super happy it.
31/01/2021
I recommend this product
Great Service
The service provided was phenomenal, with a great product to top it all off.
Thomas B.

Australia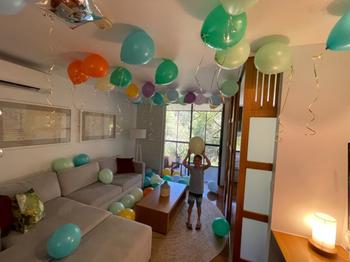 28/01/2021
I recommend this product
Great service
All perfect and went to plan. Room looked great. My son was thrilled to find his room full with colorful balloons
Bradford B.

Australia
18/01/2021
I recommend this product
Excellent Service
Friendly staff and excellent customer service.
Cesar A.

Australia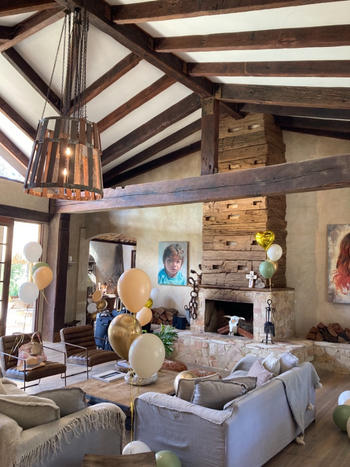 17/11/2020
I recommend this product
Birthday Surprise
I can't speak highly enough about my bang bang experience! We were heading to Byron for a good friends birthday and we wanted to make it really special for her. I wasn't quite sure how that would work arranging it from a distance, but Lilly was amazing and took care of all of the arrangements for me, we just showed up and were wowed! Thank you Bang Bang Balloons!
Jackie G.

Australia
05/11/2020
I recommend this product
Superstar!
Amazing! I would highly recommend. I ordered the balloons the night before and I was contacted immediately about my order to arrange the surprise. Very professional and loved the set up. My husband was very surprised for his birthday. Thank you so much :)
Daniella Y.

Australia
28/10/2020
I recommend this product
Outstanding Birthday Balloons for surprise birthday
Bang Bang Balloons went to another level and delivered the best possible surprise for my girlfriends 30th birthday! The look on her face when she walked into our hotel room was really nice and she was very happy with the presentation of the balloons. I was very pleased with how it all turned out and it got me some much needed browny points (which lasted approximately 4 days until the NRL grand final which I had to choose watching over a dinner date). The customer service was also first class and extremely helpful throughout. I had a little hiccup having to change my original time as I had missed my earlier flight but I was still able to keep the secret well hidden from my girlfriend. They were very accommodating with the change of plans and the set up was as good as you'll ever see. My partner didn't want to leave the room. I would highly recommend using Bang Bang Balloons if you're looking at delivering that extra bang to a surprise birthday, a proposal, an engagement or wedding, or you just want some browny points. Whatever the occasion is, I can guarantee they'll be able to deliver something special. I would give more than 5 stars if I could. I will definitely use Bang Bang Balloons again for another occasion and would like to say thanks again for making my girlfriends 30th birthday a special one.
Isaac K.

Australia
18/10/2020
I recommend this product
Amazing surprise
Absolutely perfect
Melissa M.

Australia
07/10/2020
I recommend this product
What an amazing setup!
My wife absolutely loved the balloon setup. High recommend these guys!!
Andrew V.

Australia